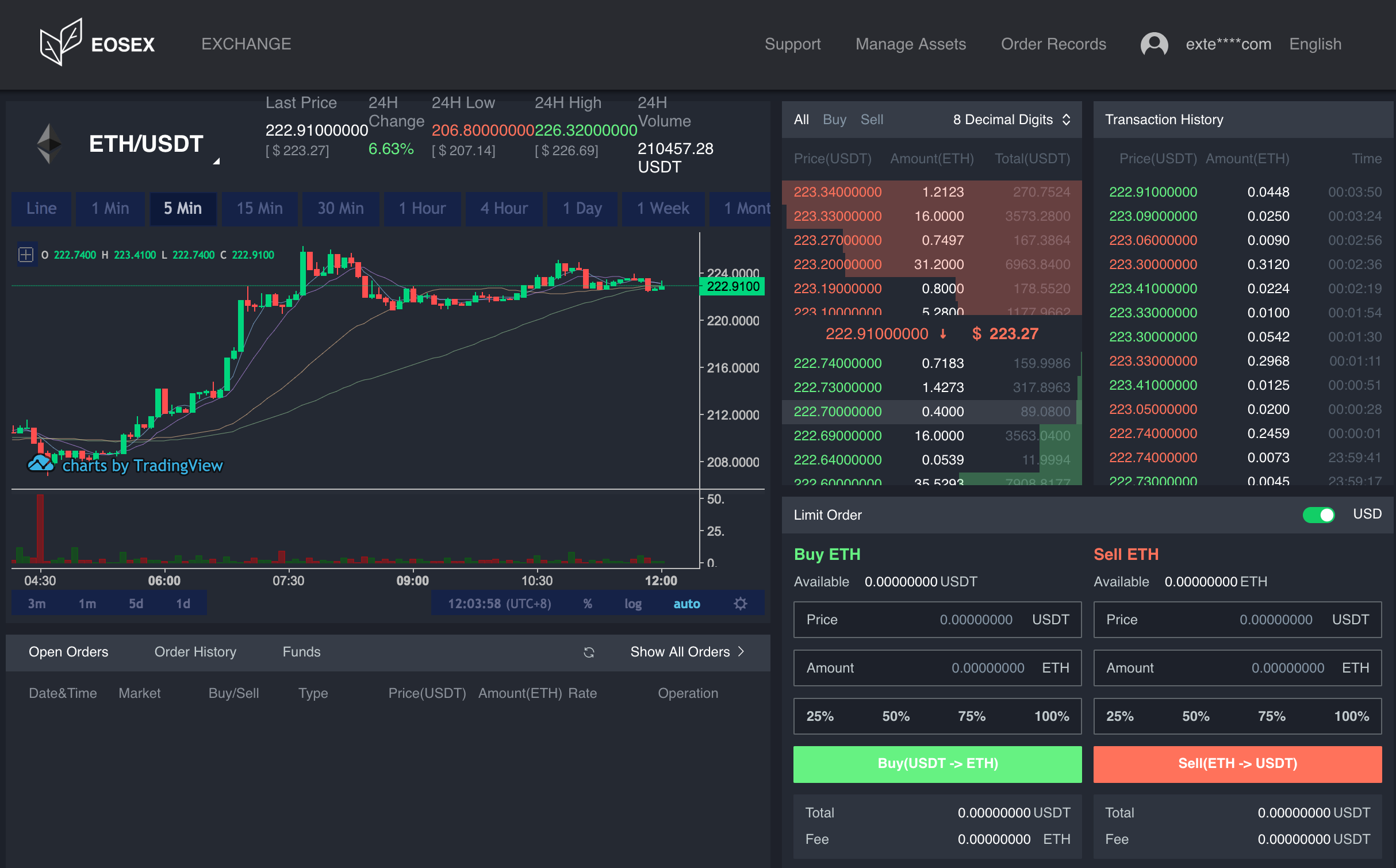 EOSEX is a newcomer to the world of EOS-based exchanges and bills itself as "semi-decentralized" exchange, meaning you do not have control over the private keys for the tokens (like Binance).
At the moment, I can only see three trading pairs, ETH-EOS, EOS-USDT and ETH-USDT. They also have their own token, of course, called EXP, but that is not listed yet.
While confusing, it is unique in that it offers returns of 100% of commission fees back to traders of their EXP token, which therefore gives 100% of those profits back to EXP token holders. You can also "mine/stake" with this token in your account and gain returns.
They do take security very seriously, with not one but two types of 2FA, which they really try and get you to enable once you've logged into the site.
EOSEX is also trying to create a truly fair, open and community-based exchange that is owned by every EXP token holder. In this way, I think they are trying to meet their self-defined meaning of "semi-decentralized."
Listing Process for EOS-Platform Tokens:
We intend to list high-quality EOS-platform tokens with new tokens listed in cycles of 15 days. The top-5 tokens that have the highest proportion of tokens deposited with EOSex relative to the total number of tokens in circulation, will receive automatic listing on EOSex.
Listing Process for other Tokens:
New listings will be chosen from a coting process that is different from other exchanges. EXP token holders will be given voting rights based on the number of tokens held and the number of days held, and the EXP tokens will not be destroyed during the voting process. For each voting period, the top-3 projects will automatically qualify for listing.
Voting Power = Number of EXP Tokens held x Number of Days Held
Support for Trading of Financial Products:
Naturally, EOSex supports spot trading in cryptocurrencies. However, once the platform achieves a certain level of volume, stability, and security, we will begin introducing new financial products for trading in underlying based on equities, forex, commodities, etc. Thus, we will become a global exchange for a full range of trading products. Naturally, this will generate ever-larger revenues for EOSex, which, as always, is 100% distributed back to EOSex token holders (EXP).
Mining Rules:
Total number of tokens available for mining is 3 billion. Once all such tokens have been distributed, the mining program will end. "Mining" describes the process whereby 100% of trading fees are rebated back to the user in the form of EXP tokens. The value of EXP to be distributed each day will be based on the price at 6:00pm Hong Kong Time, and will then be immediately distributed.
Calculation of Profit Distribution for EXP token holders:
Total income for the day x EXP tokens relative to the total number in circulation
Daily Profit-shareing Cutoff Time:
Each day, at 8:00pm Hong Kong Time, the total value of all commissions received for the previous 24 hours will be calculated and then corresponding value of EXP tokens will distributed to all EXP token holders. Any EXP token holder who has not logged in within the last 24 hours, automatically forfeits their distribution for that day.
Buy-back Process:
Profit Distributions to the EXP Tokens held by the EOSex team are used to buy back EXP tokens from the market after which those EXP tokens are permanently taken out of circulation by being sent to a dead address. Such buybacks will cease once the total circulation of EXP tokens shrinks to 5 billion. EOSex maintain a separate web page where up-to-date figures will be published for total number of EXP tokens in circulation, mining volumes, number of tokens bought back, number of tokens destroyed.
Token Destruction:
Commissions received from trades among EXP group trading pairs will be automatically be taken out of circulation by being sent to a dead address. In future, the EXP community make decisions on commission rates for EXP group trading pairs.
A new exchange for EOS community has gone live and will have a crowd sale this coming October 15 - November 20 , 2018 . Public sale will be divided into three rounds .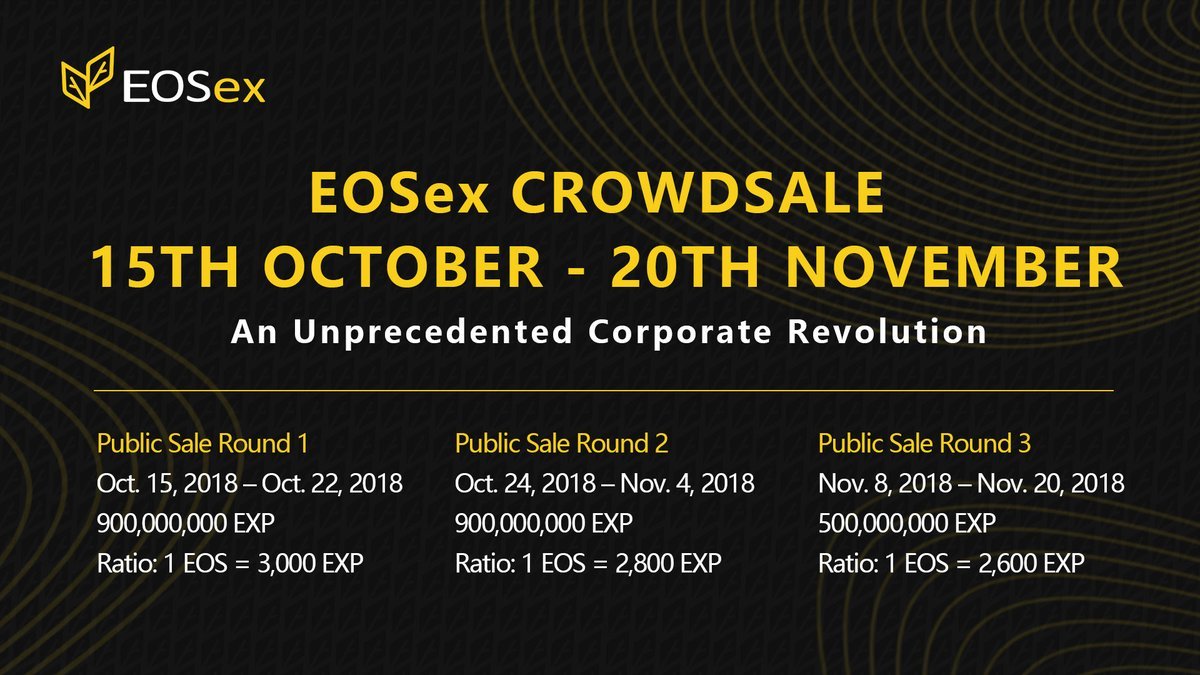 For now you can deposit and withdraw EOS, ETH, IQ ( Everipedia ) . Additional to that EOSbet already has a partnership with EOSex . EOSbet is a provably fair casino with instant and free betting via the http://EOS.IO blockchain!
EOSEX
The most limited exchange at this point in time with only three trading pairs. Not yet any airdrop-pairs.
Btw. airdrop is a nice keyword if you wish to register, you may want to wait and join their telegram channel. There will be an airdrop based on an invitation link soon. You will be able to get 50+ EXP tokens but this only works based on the registration link they are about to publish.
From all the exchanges I reviewed the interface looks closest to Binance, though up and down arrows are not available there is a scale to define the number of tokens. Charts are provided, guess, by trading view, no surprise here.
It is not an EOS-based exchange, this has to be said.
There seems to be a staking/mining option for their EXP tokens which I could not get any details about. I would assume that the rewards are comparable to other exchanges such as KuCoin.
Exchange Type: Centralized Exchange
Access: Registration incl. 2FA
KYC: Yes
Min. Order: unknown
Fee: 0.01%
Wait and see, for now, based on few trading pairs and trading fee (though very low) not the first option to buy and sell at.
More Info
Webite:
https://www.eosex.com/
Twitter:
https://twitter.com/eosexcom
Telegram:
https://t.me/EOSexOfficial
ANN:
https://bitcointalk.org/index.php?topic=4942787.0
Discord:
https://discordapp.com/invite/GYDsubS
Bitcointalk link;
https://bitcointalk.org/index.php?action=profile;u=555335
EOSEX Semi-decentralized EOS-based Exchange
Reviewed by
haw
on
October 14, 2018
Rating: