What is CBNT?
CBNT is a professional content sharing system based on block-chain technology and part of DPGC (Decentralized Professional Generated Content) model where professional finance investment-related content will be shared. CBNT aims to create a win and win situation for articles writers, readers, and token holders. Both content producer and reader will receive mining reward based on their effort. As the platform grows traffic start increase then they will place ads, the revenue generated from ads will also be distributed between all participants according to their work.
Everyone who knows internet has social media accounts on Face book, twitter, Instagram. Millions of user's daily visit to these sites but at the end of the day social media sites owners earns millions by capturing user's data and users gets nothing in reward. CBNT things that it is not fair with users who create contents so they starting creating a system where users will be earn reward by doing social media work. CBNT will solve the problem of current social media system and rewards every contributor who creates value by producing unique contents.
How it will works?
CBNT rewards high quality content creators with more tokens so more people start creating unique and valuable contents that will ultimately drive traffic to the network. Steemit has a same kind of idea but on steemit there is no any kind of rule to reward high quality content creator the most. High quality content creators will generate huge amount of traffic that will generate ads value. Content creators will also experience additional benefits like paid readings, paid sharing and paid questions and answer sessions. CBNT token advertisement system will be transparent to all users to protect peoples who are holding the tokes and advertisers will be allowed to buy ads with BTC, ETH and through other digital currencies.
In the start home page of authors will be open for advertising and revenue generated from that will be split between authors and its followers. Content creators will be awarded the most and all followers must to have to pass KCY to ensure high quality users. Spam free system will enable advertisers to take decision about buying ads and increase ROI. Advertisement revenue generated will be shared between all token holders by taking hourly snapshot. CNBT personal team and other thirty party users will be allowed to vote and become part of improved advertisement system.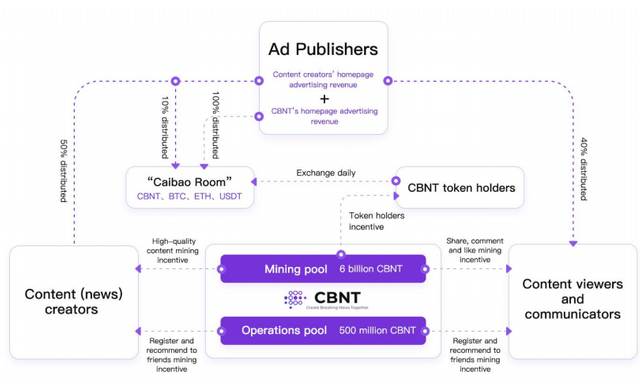 CBNT Mining System
Every data CBNT token as a mining reward will be distributed between community members at a specific time. The reward distribution will be like this; 45% to content creators, 45% to readers who are liking, sharing or commenting and remaining 10% will be awarded to token holders. Each user will have its own value based on its engagement, the higher the user value the higher mining reward he will get. Users will be encouraged to promote only high quality contents, the sooner they like and share that content the higher reward they will get.
CBNT Token Holders
Based on the CBNT Token operating system, content creators, viewers, and the CBNT community will become stakeholders. When the value of the CBNT community continues to rise, all CBNT token holders will benefit.
CBNT advertisements adopt an open and transparent bidding method to protect the interests of CBNT token holders.
The Application Of CBNT
Download App CBNT V1.0 is planed to be launched in Sep. 2018.
On App Store And Android Store
Token Allocation
As CBNT is a proof of platform ecosystem, CBNT token holders can enjoy rights on the platform, like revenue sharing, supervision, voting etc. The total supply of CBNT is 10 billion, and it will never be overissued. There are two ways to obtain CBNT: one is mining, and the other is to trade from the exchange.
Token Information
Token Symbol: CBNT
Total Supply: 10 Billion
Token Type: ERC20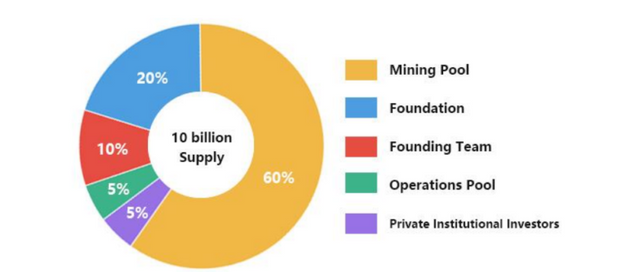 CBNT is a decentralized professional content sharing community-based on blockchain technology, and the eco-class DPGC (Decentralization Professional Generated Content) model. In the early stage, we focused on the production of professional content in the blockchain and financial management industries, and we are committed to creating for all participants, namely content (news) creators, content readers (attention), advertisers, and holders of certificates. An ecological community that benefits and wins. In the CBNT community, whether you are creating content (publishing news) or reading content, you will get a lot of pass-through "mining rewards". Not only that, but with the rapid development of CBNT and the flow of blowouts, massive B-side advertising The proceeds will also be paid directly to the content creators, content readers and communicators and holders of the community.
For more information, please follow the links below.
Website :
https://www.cbnt.io/index-en.html
Whitepaper :
https://www.cbnt.io/whiteBook1.pdf
Twitter :
https://twitter.com/CbntOfficial/
Facebook :
https://www.facebook.com/cbntofficial/
Bitcointalk Username: aquascap
Bitcointalk Profile:
https://bitcointalk.org/index.php?action=profile;u=2180016
CBNT – A Decentralized Professional Content Sharing platform!
Reviewed by
haw
on
April 11, 2019
Rating: